Wednesday, January 27, 2021
The Curbside Survival Guide to ColumbusGA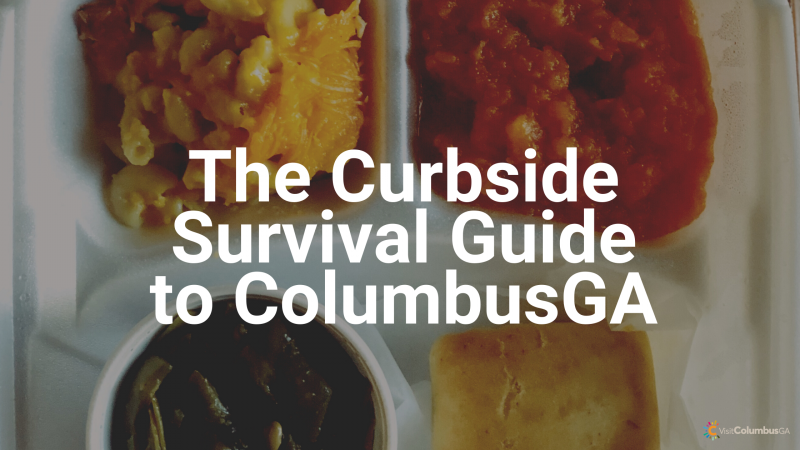 Looking to get a taste of ColumbusGA while you're visiting, but aren't quite ready to dine-in just yet? Our staff put together a list of our favorite local places to grab food to-go!
Each of the restaurants on this list offer safe curbside or to-go options, so you can #TravelSafely and enjoy everything ColumbusGA's AMAZING culinary scene has to offer.
We've also included recommendations of favorite local dishes in case you're looking for suggestions on what to order.
Get ready to dig in!
¤ Curbside Pickup Available
The Bakeshop by Fountain City Coffee
The Loft ¤
Mabella's Italian Steakhouse ¤
Country's Barbecue- Drive-thru available
Peluso's ¤
And now, for the Local Dishes We Love!
¤ - Curbside Pickup Available
Wicked Hen - Several of us on staff love the Black Eyed Pea Hummus and the Chicken and Waffles. If you're looking for something really local, check out their Goldens Cast Iron Smoked Short Rib!
Mandarin Cafe ¤ - This lesser-known local gem serves incredible food at very competitive prices. Staff favorites include their Mongolian Beef or General Tso's, and their Orange Chicken is a hit with our Social Media Manager's children any time!
Vertigo Fusion Kitchen - Staff favorites include the Street Corn Dip and any of the fusion-themed tacos. The Steak & Frites is also a popular choice on the menu.
The Bakeshop by Fountain City Coffee - at BANKS Food Hall offers a variety of pastries and baked goods. Typically on work days, at least someone in our office is having one of their gigantic cinnamon rolls. The traditional cinnamon is The Bakeshop's most popular flavor, but take it from our Sales Team who have declared the blueberry rolls are where it's at! Whatever you choose, don't skip the chance to order a cup of freshly brewed, locally-roasted coffee from Fountain City Coffee.
The Black Cow - This Columbus staple has a Bacon Pimento Cheese Burger (below) that was voted one of the Best Burgers in the South by Garden & Gun readers! Our VP of Sales also loves their Meatloaf.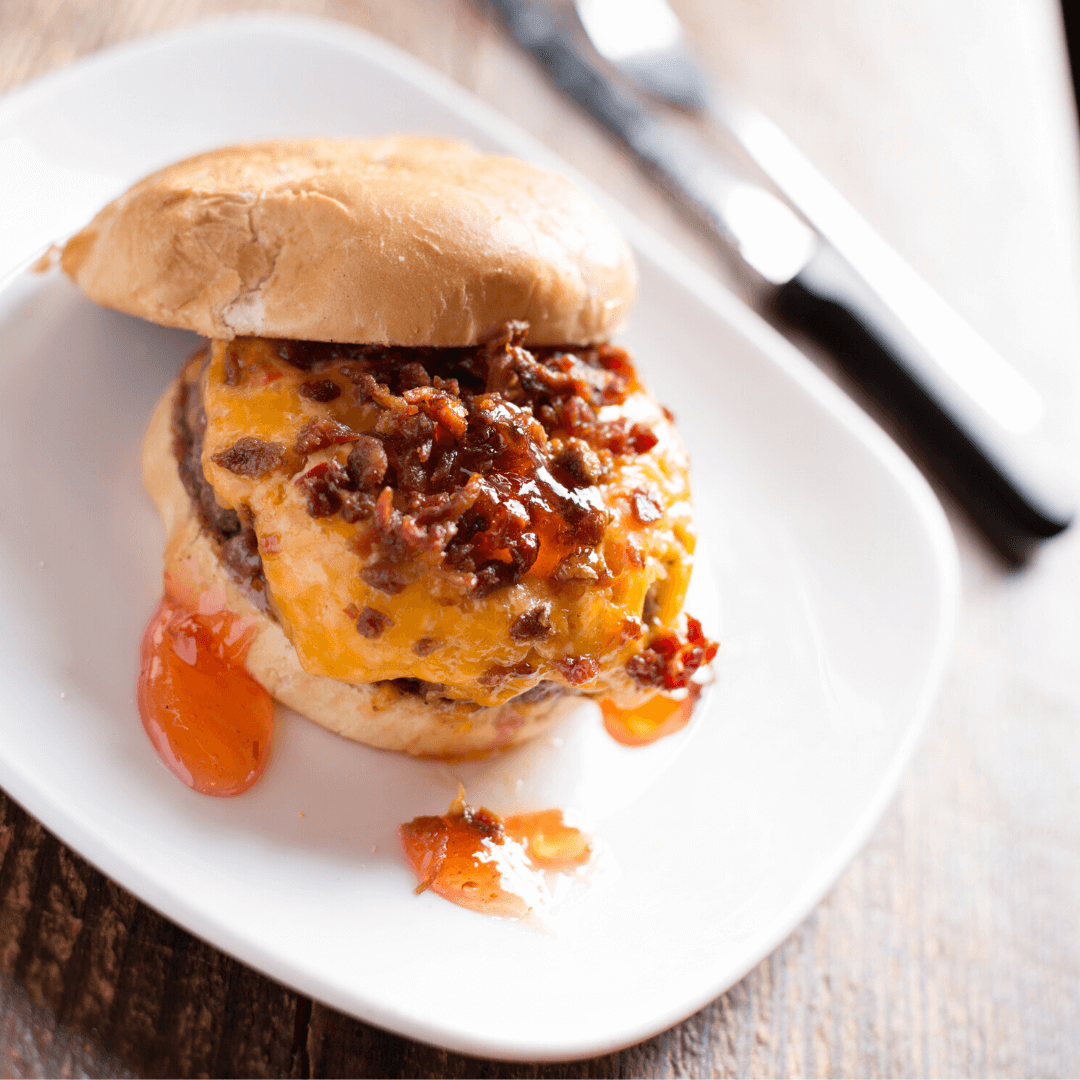 The Loft ¤ - Our CEO loves the Herb Crusted Double Cut Pork-chop, and never passes up a chance to order some of their AMAZING Cheese Grits. Another staff member swears by their Turkey Burger with a side of Green Beans.
Mabella's Italian Steakhouse ¤ - Our Vice President loves the Wedge Salad with Grilled Shrimp, and we ALL love a big 'ole slice of Mama Kay's Cheesecake!
Country's Barbecue - Locals have been flocking to Country's for decades for the classic Pulled Pork Barbecue Sandwich. If you're looking for something a little different though, our Vice President of Sales always orders their Smoked Turkey Sandwich. If you're here in the Winter, she also recommends their seasonal Chicken and Dumplings which typically go on the menu in January and run through the colder months.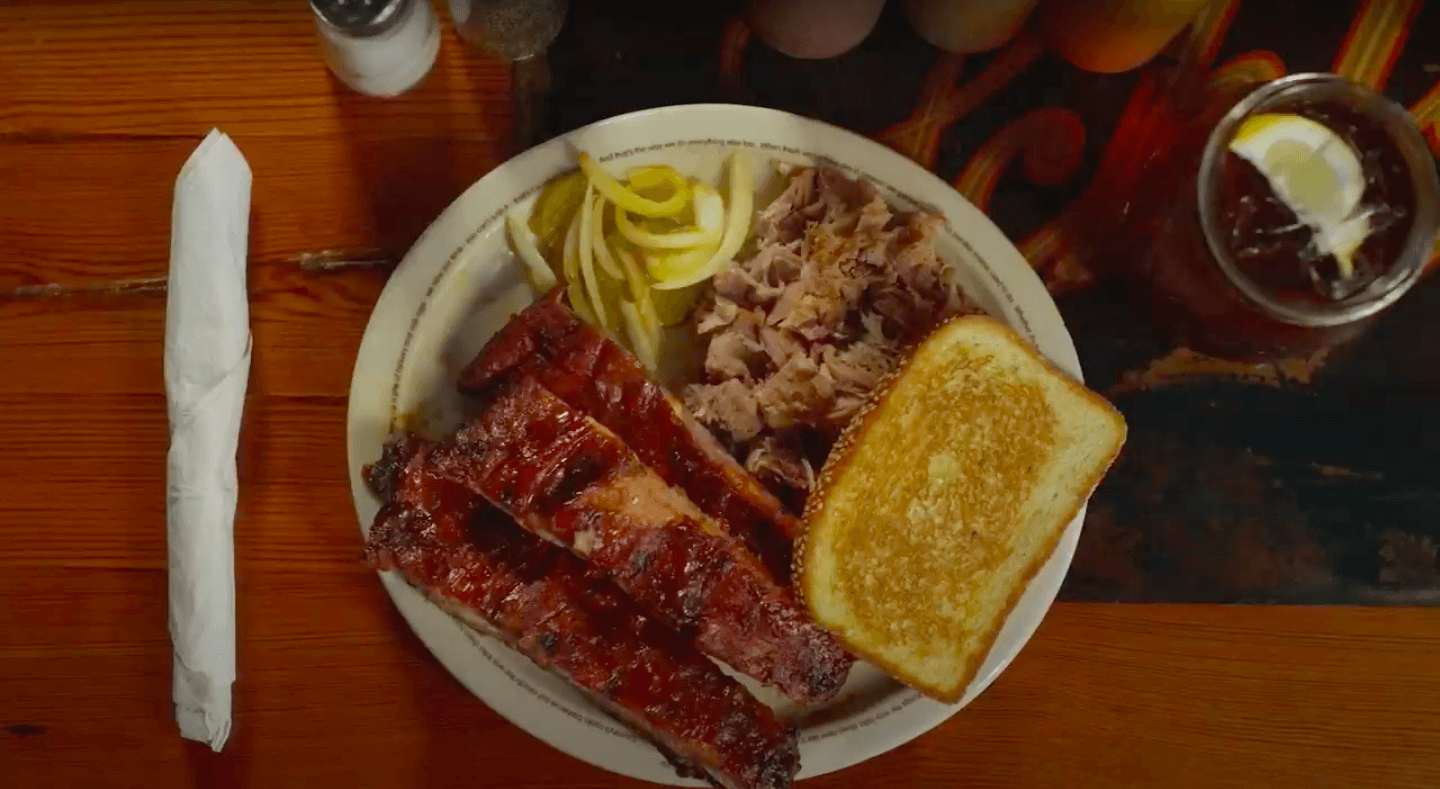 The Speakeasy ¤ - Midtown Columbus is home to this local gem which makes one of our favorite sandwiches in town. It's called The Camel Rider and we highly recommend you get it with curly fries and a little honey mustard on the side. YUM!
Wasabi Sushi - Our in-house marketing team loves the sushi from Wasabi. Our Visitor's Center Manager recommends the Spicy Tuna Roll, which has been her 'go-to' there since 2014. Our social media manager orders the traditional California Roll with spicy mayo on top!
Don Chucho's Mexican Restaurant ¤ - What's not to love about this local Mexican restaurant? Favorites include the enchiladas, fajitas, and their chicken soup. YUM!
Smoke Bourbon and Barbecue - Everyone, and we mean everyone, on our staff loves the Fried Pimento Cheese Wontons at Smoke! Other staff favorites include the Pork Nachos, and their Brisket & Sweet Potato Stuffed Waffles.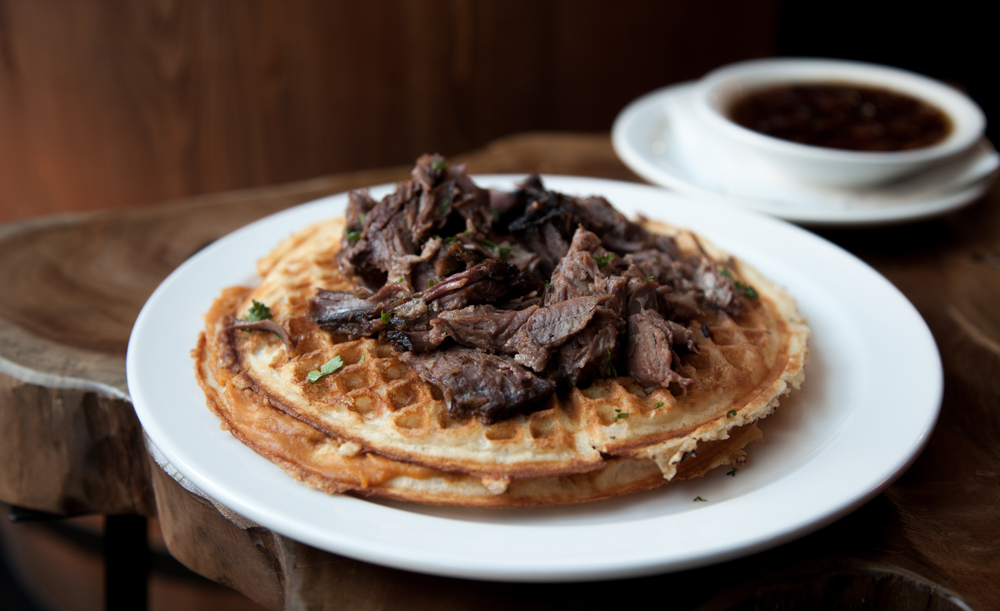 Peluso's Italian Restaurant ¤ - This local place has served ColumbusGA for more than 50 years. Our Visitor's Center Manager loves their pepperoni pizza!
Jarfly - Our Sales Team loves the Jarfly Burger, and several of us order the Potachoes every time we go. Need something lighter? Try their Cauliflower Wings!
Minnie's Uptown Restaurant - All of us agree: Minnie's is all about the fried chicken, sweet tea, and mac n' cheese.
The Cannon - ¤ Staff favorites include the Blackened Chicken Pasta and the Pig Pie. Be sure to check out their burgers and house-made potato chips, too!
B Merrell's ¤ - Our Film Commissioner loves B. Merrell's! Popular picks from the menu include their Boneless Chicken Wings, Sweet Potato Waffle Fries, Country Fried Steak, and the Reese's Peanut Butter Pie.
Chef Lee's Peking Restaurant- This restaurant has been voted "Top Ten Fine Dining Chinese Restaurants" by Chinese Restaurant News Magazine for a number of years in a row. Staff favorites include the Wonton Soup, Hunan Chicken, Mongolian Beef, and General Tso's. You'll have to go inside to pick up your order, but as of 1/22/21, they're only open for takeout.
Midtown Coffee ¤ - This Midtown gem has become known for serving excellent fair trade coffee. Staff favorites include the Grown Up Grilled Cheese, Kale Salad, Wild Rice Soup, and their Chicken Salad.
Categories: Dining, Family-friendly, Stay